The hybrid model provides challenges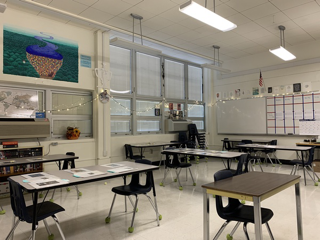 The hybrid model comes with its challenges. The difference between the years before, is that there are  now distance days. Distance days are when students learn from home, and don't get to attend in person school.  Some classes more than others have been affected by this, because they can't continue their in-person lesson to students on their home days. Some teachers  must adapt and figure out a new way to teach their students, keeping them productive and trying to re-create what they would do in class. 
It all depends on the type of class and the teacher. Depending on what class, some teachers can assign different things.
"I assign videos that the students need to watch and take notes on," Formal Geometry teacher Megan Briggs said. "It's usually one or two videos that are around 20 minutes long." 
 On student's distance days, others are in class. Teachers, however, get to teach both groups every day. 
  "I use the same method of teaching on both A day and B days," Briggs said. "However, some classes do require more one-on-one assistance to succeed, so I try to give them as much help as possible." 
The real difference is having to do schoolwork at home, and only go to 'in person' school two or three days a week. This means the classes are moving a lot slower. 
"This year has been modified to say the least," Womens weights teacher Robin Johnson said.  "Sadly, with all our safety guidelines that we need to follow in the weight room, it modifies the amount of equipment we can use, how it is used, number of students that can work together has changed, and all that takes away from class time. We are teaching similar lessons, however a lot slower.  It just takes more time to get things covered in class in order to stay safe and use appropriate cleaning measures." 
With trying to continue weights class at home, it must be adapted. This is because it would be very difficult to try and do what you do in class, on your home day. 
"Our distance lessons place a lot of responsibility and individual discipline on the student.," Johnson said. " We give Workout options with the hope the student is following our in-class instruction on safety and technique, we encourage work ethic and the hope that athletes will follow these lessons to stay in shape for their sports or just to use to maintain a healthy lifestyle."