We The People still competing, competition format adjusted to online
At Reno High, a selective group of students display their passion for the United States Constitution by joining the We The People program. In the past, Reno High has been known for placing in the State and National competitions. Unfortunately due to the coronavirus pandemic, schools have been shut down nationwide, and the Center for Civic Education has decided to cancel the in-person portions of the 2020 We the People National Finals. 
"The whole class was very defeated when we heard the news," senior Aden Pearson said. "It felt like every bit of work we had put in to go to this competition was for nothing. We came back from a second place title at Districts to get first at State, and now we don't get to compete in Washington D.C.. However, when the competition was still scheduled to compete online we all decided to try hard and try to win even if we couldn't travel."
Instead of cancelling the event all together, the We the People National Finals will be held live using the videoconferencing software known as Zoom. The Reno High class is also using Zoom to communicate with their units in order to prepare for the competition. The transition from in person to online learning has been smooth so far for the class, although it was  easier to share ideas when they were all in the same room. 
"For my unit, we have three, two hour Zoom calls a week to refine our testimonies and to surface some concepts within the questions we receive that we haven't yet noticed," senior Amanda Williams said. "The unique and awesome thing about Zoom calls is that we can now have alumni or scholars who live in different places join the call and give us all different kinds of advice and feedback. My perspective has changed and I would even say the class has taken a bit of a different perspective. We still get to compete at the national level. We still get to work with our units. We still get to learn these concepts that are fascinating. And we still get to represent Nevada. We are in a new stride as we prepare in the next weeks for a virtual competition and the new outlook is bringing a fresh motivation and determination to go hard."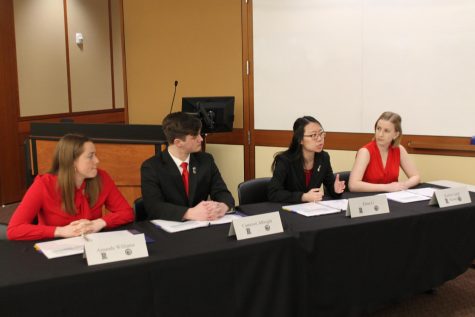 As of right now, 30 classes across the nation are competing. There will only be one question instead of three and the competition will still have the original timing for hearings, answers, and follow-up questions. The class is trying to remain positive. 
"One thing that I'm excited for the online nationals is the fact that we still get to do it," senior Austin Durman said. "This whole situation has really put a hold on everything that we have worked for, but it's exciting to see that the board still cares enough and still places a value on civic education. As seniors, most of everything that was important to us was cancelled and this is the one thing that the rest of my team and I still have left to look forward to. When in times such as these, I think that's what a lot of people need and I'm just happy that we still get the chance to compete and represent Reno High School for what could be the last time."
The We the People National Finals will be held on the weekend of April 25, which is the original first two days of competition.