"Dr. Dolittle" displays confusing plot, odd accent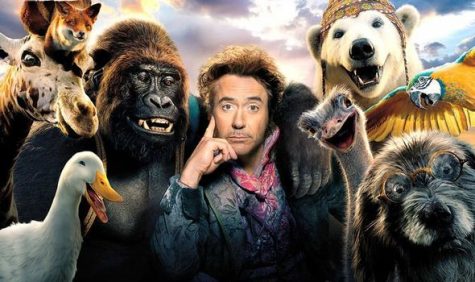 This movie is filled with action, adventure, and many funny jokes for the family. Dr. John Dolittle is a famous doctor and veterinarian of Queen Victoria's England. He lost his wife a few years earlier, because of this he hides himself in his home of Dolittle Manor. But when the young queen (Jessie Buckley) falls ill, Dolittle is forced to set sail on a journey to a mythical island for a cure. Throughout the story he has to fight old adversaries and discover the world of amazing creatures.
The biggest part of Dolittle's story is of course his ability to talk to animals, which was my favorite part. The iconic trait of this doctor was one of the main themes cared from movie to movie. I really enjoyed that in this movie the animals all had different personality traits too. This made it so that the animals weren't just one note and blended together, they each suck out in different ways. For example, Dolitttle has an anxious gorilla, enthusiastic but bird brained duck and an upbeat polar bear.
However, the amazing and interesting animals can get overshadowed by Dolittle's choice of accent. His accent changes from sounding almost Australian to Irish and other different sounding accents. This was the worst part of the movie for me; it was so over shadowing of the plot. It made it so the person watching would have to really pay attention to every word that he was saying, otherwise they would miss many important themes.
Also during this movie the plot was very hard to follow. The movie jumped from every possible direction. During the middle of the movie, all a sudden magical creatures started pooping out of the movie, which was the most confusing part of the movie because I didn't know the movie was now about magic. Some parts of the movie make no sense at all; it's like one story line is happening then suddenly a whole different movie is pooping through.
"Dolittle" is a new take on a classic storyline of a doctor. However this new movie really was not one of my favorites because of many issues with the plot. With these issues it makes the story very hard to follow and can make the audience get easily confused. But "Dolittle" does have some great jokes for a younger audience. This movie is a great one for little kids but is a little hard to keep track of.