Feldman-Matocq gains news experience living in France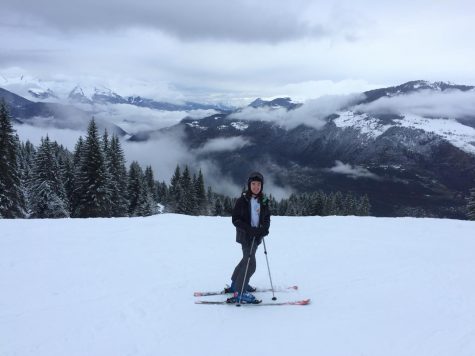 Freshman Rowan Feldman-Matocq has had a more eventful first semester than most. 
Feldman's parents are professors at the University of Nevada, Reno, and were awarded an international work sabbatical, which means that Feldman, although home now, lived in Montpelier, France for three and a half months, and attended Simone Veil public high school.
Feldman experienced some difficulties along the way with certain classes, but for the most part a school day went smoothly.
"There was an International Program, and all these kids spoke English pretty well," Feldman said. "They had all been speaking English for like five, six years, so I would mostly just talk with them, but for sure, classes like math didn't make any sense, so I would just have to guess what different words meant and be like, 'I guess I'm finding the average?'"
In addition to the classes themselves, Feldman says that the structure of the schedule was more confusing than the actual lessons. 
"The whole class would stay as a unit during the day," Feldman said. "And not only us, but the teachers would move too. We might have the same teacher in two different rooms teaching different classes, you would never know."
Although the way a regular day functioned took some getting used to, Feldman emphasizes that what was most surprising was that schools in France made due without one of the most well-known parts of an American school system. 
"There's no such thing as substitute teachers," Feldman said. "Instead, they would just put you in a room where you would just be absolutely silent, but if your last few classes were missing, you could just leave school, and walk right out."
However, all in all, despite being away from home and some of the obstacles that came with it, Feldman says that he would in time do it again. 
"The aspect of living a daily life in another part of the world was just really cool," Feldman said. "Everything was different, and sometimes I didn't understand, but it was ok in the end because I just kept doing what I was doing." 
Feldman is currently doing online school, and will be back at Reno High next year. Feldman has missed the social parts of high school the most, particularly band class, and is optimistic about coming back. 
"I mean, I've been away for a while so there's gonna be that aspect of it," Feldman said. "Things will for sure be different, but past that, it is what it is."