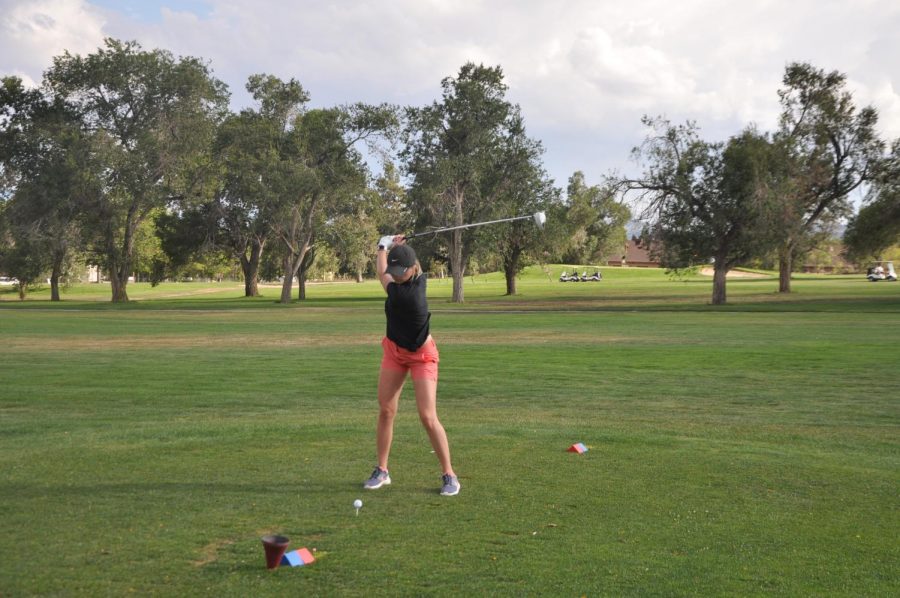 Gannyn Dunn
With a high expectation from the players to win Regionals for the fourth year in a row, the girl's golf team has been hard at work to accomplish that ambitious goal.
"Team bonding is one of our big things that I'm pushing for," Team captain Hannah Penberthy said. "We  are also going for our fourth year Regional title win so me and Syd Lamb are really pushing the team to bring our stuff together and win it again."
One of the team's main worries this season is the Manogue golf team, that they could potentially battle in Regionals.
Penberthy's goal this season is to join her squad more than other captain's have done in the past. One of the weakest points of the group is their bond, so this has been one of their main focuses during the preparation process.
Sophomore Avery Lamb, who is starting her second year on the team, feels that the girls will have to help each other work through difficulties in order to reach their main goal of winning Regionals.
"We would have to work on being a team," Avery said. "And working together and being encouraging of everyone and trying to help everyone, but to also focus on ourselves and self improve."
Another thing Avery is looking forward to this season is getting to play alongside her sister, senior Sydney Lamb, during her last year on the team. Avery feels she is going to benefit from having her sister on the same team has her because there will always be someone giving her support.
Sydney Lamb is also a team captain and one of her main goals is to be the best captain she can be so that future golf team's have a good background and understanding of what a good team looks like.
Sydney also enjoys playing alongside her younger sister because she can relate to her through golf.
"We don't get along sometimes and golf is something that we can do together," Sydney said. "It's like another person supporting me and just someone out there who I know is always pulling for me."
The girls take the course next on Sept. 9 at Somersett against rival McQueen.